Spring Cleaning starts early here in Florida. I am teaming up with Wayfair to share my best cleaning tips. Wayfair sponsored this post and challenged me to share some of my favorite cleaning tips, tricks, and tools.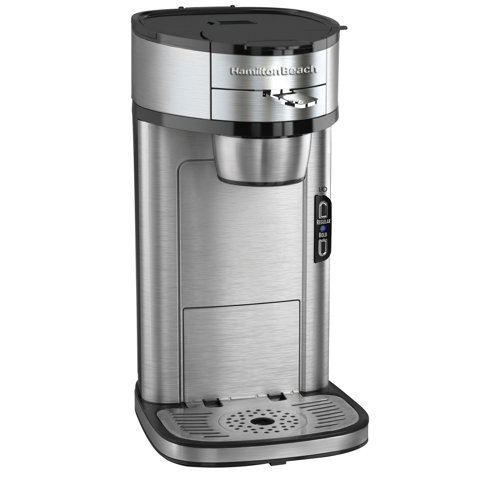 First things first. In order to do a full spring cleaning, HIMself and I must have a good strong caffeine fix. I brew it in my handy-dandy Hamilton BeachThe Scoop®.
The Scoop Single Serve Coffee Maker
Regular Price:$39.81
I love this Single-Serve Coffee Maker. I use it to brew my tea also. I always have a fresh cup because it does not sit in a pot for minutes or hours. However, it does get dirty with the constant use.
Spring Cleaning My Coffee/Tea Maker
I noticed some residue in the coffee maker recently. It needed a good cleaning. We have a water softener in the house that uses sea salt to filter the water. Me thinks it also is the source of my residue. I also believe I could not be experiencing the full flavor of my beloved tea, nor his beloved coffee. Here is what the inside looks like:
Organic Cleaning for Me
I am not about using some harsh chemicals in my brewer. I resort to my Grandmother's tricks–vinegar and baking soda were her go to cleansers. I broke out the vinegar. It is edible, so it could not harm me or my drink! Right?
I made a solution of half water and half vinegar. I filled the well of the brewer to the top and ran it like I usually would.
Then I ran another brew cycle with clean water. I did reserve the vinegar mixture to clean my kitchen appliances…I hate to waste anything. As you can see below the insides look as nice as the outsides now…
Spring Cleaning Tips and Tricks
I am a fan of organic cleaning. I love, love, love to use the power of steam in my home, car, grill…everywhere. Wayfair has some great steam cleaners you can see at the top of my Spring Cleaning Idea Board below. I mop floors with steam. I steam bathroom tiles and grout. I steam my appliances to sparkling. I steam the mattresses once a month. HIMself steam cleans the grill grates with the brass tip. He also cleans the car with steam. We are steam cleaning evangelists. We include steam in our spring cleaning as well.

Rebecca E. Parsons
Here are a few more cleaning tips:
Start your Spring Cleaning with a plan of action. Maybe one chore throughout the house or one room at a time.
Spread your Spring Cleaning out over a few weeks. There are many websites and blogs that offer cleaning printables, lists, etc. My fave is Household Management 101.
Keep your cleaning products in a caddy.
Microfiber cloths with hot water clean stainless steel beautifully.
Declutter as you clean. Give things to people who need them or organizations like Goodwill or a women's shelter.
Your steamer and a hand-held vacuum can clean even some ground-in carpet stains. Make sure to test the steam on a not-so-visible part of the carpet before you head to the middle.
Dust before you vacuum. Clean from top to the bottom.
Use the correct tool for the job. See some of my faves above.