New Kitchen Play Thing
I have had so much fun with my new toy–the Davison Meatball Baker. A few months ago The Balancing Act, a Lifetime television show that I blogfor, asked if I wanted to try the meatball baker. (I am giving one away below! UPDATE WINNER ANNOUNCED – Entry #515 Erica…Congrats!) I jumped at the opportunity to try this fascinating kitchen gadget…you know I love my kitchen gadgets. I was smitten when it arrived. My creative imagination went into overdrive…I created food like this:
With this Davison Meatball Baker…
I could envision so many yummy things to bake in this pan. From skewered shrimp to shish-kabobs, from sausages to bratwurst, I have used it to make delicious fare for our table. And the meatballs turn out gorgeous. No more misshapen, flat on one side meatballs for me. They come out round and perfect every time. See my meatballs and brats on the removable grid? Nifty for any size meatball and many other foods as well.
Healthy Meatballs
Plus there is an added bonus to baking the meatballs…they never sit in their own grease like they do when frying or baking in a regular pan. Your beautiful meatballs are healthier for you as all that extra fat drains right off. That is a biggie for anyone watching their weight or looking for healthy baking alternatives. This pan is a winner.
It is a pretty innovative kitchen product, which solves a lot of problems. The unique rounded rack holds the food so it keeps its shape. They bake evenly while staying out of the fat. It works so well you might want to use it every day. I am wondering if you could bake bacon? hmmmmm…
I also baked some chicken kabobs and broccoli…They turned out yummy. I did broil them a few minutes for color after baking. Here they are ready to pop into the oven. I added a little bit of water to the pan to keep the broccoli from drying out. It worked like a charm!!!
Here is what the finished product looked like plated…
Meatball Baker Giveaway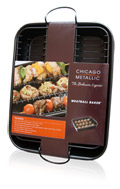 You know I love to share with YOU…my dear readers. So I am going to give away an awesome Meatball Baker to one of my fans courtesy of Davison. All you need to do is comment on this post telling me what you would make first. There are other ways to earn more entries too. The giveaway ends 10/22/2012 at midnight EDT. You must leave an email address in your comment to be eligible to win…I must be able to reach you!!!
Terms and Conditions: Winners will be selected randomly through http://random.org. No purchase necessary to enter. Giveaway ends at midnight ET Sunday, October 22, 2012. See C8C Giveaway Terms & Conditions for more information. You must leave a valid e-mail address to be entered. This giveaway is available to US residents only.
Meatball Baker Pinterest Contest
All of the rules and contest details are on the poster below. The contest begins today – Thursday October 11, 2012 and runs through the 23rd.
Here is the contest Pinterest board – https://pinterest.com/davisoninvent/davison-meatball-baker-sweepstakes/
The giveaway rules- http://www.davison.com/meatballbaker/
Use the hashtag #DavisonBalancingAct
I was given a Davison Meatball Baker via The Balancing Act TV for this review. All comments, ideas and photos are my own.